Today, I am going to share one of my favorite go to breakfast when I have a little extra time in the morning. It's easy and meal preps well. You're going to love it. There's so many different variations of this bowl, so I never get tired of it.
Please, please let me know your favorite variations on IG (#tydeats)!
Let's get into it.
Here's what you're going to need.

1/3 cup of the potatoes of your choice (I like sweet potatoes or TJ's pepper and potato mix)
1/4 cup of frozen peppers & onions (I like to use the frozen bags from Trader Joe's)
1 breakfast chicken sausage link
A handful of arugula
1 egg
1 tablespoon of apple cider vinegar
Now what?
In a skillet cook the breakfast sausage. If it comes in a casing take it out. Try to crumble the sausage as small as you can. When it's fully cooked, set it aside.
Meanwhile, boil a pot of water. Add a tablespoon of apple cider vinegar.
Get a hot, non-stick skillet. This is key! Grease it with a little ghee and throw in your potatoes. Add salt, pepper and a little adobo to taste. Move the potatoes around until they are cooked all the way through.
Once the potatoes are cooked through, add the frozen peppers and onions to the same pan.
When the peppers and onion are almost done, add your crumbled breakfast sausage. Combine everything.
While the peppers are cooking, prepare your bowl. I prefer a nice shallow bowl. Fill the bowl with a handful of arugula.
Add the potato and sausage mixture on top of the arugula.
Your pot of water should be at a rolling boil right now. We're going to poach an egg! Here's my favorite poaching method.
Remove the egg from the water with a slotted spoon and gently place on top of the potato mixture.
Voila! You're done.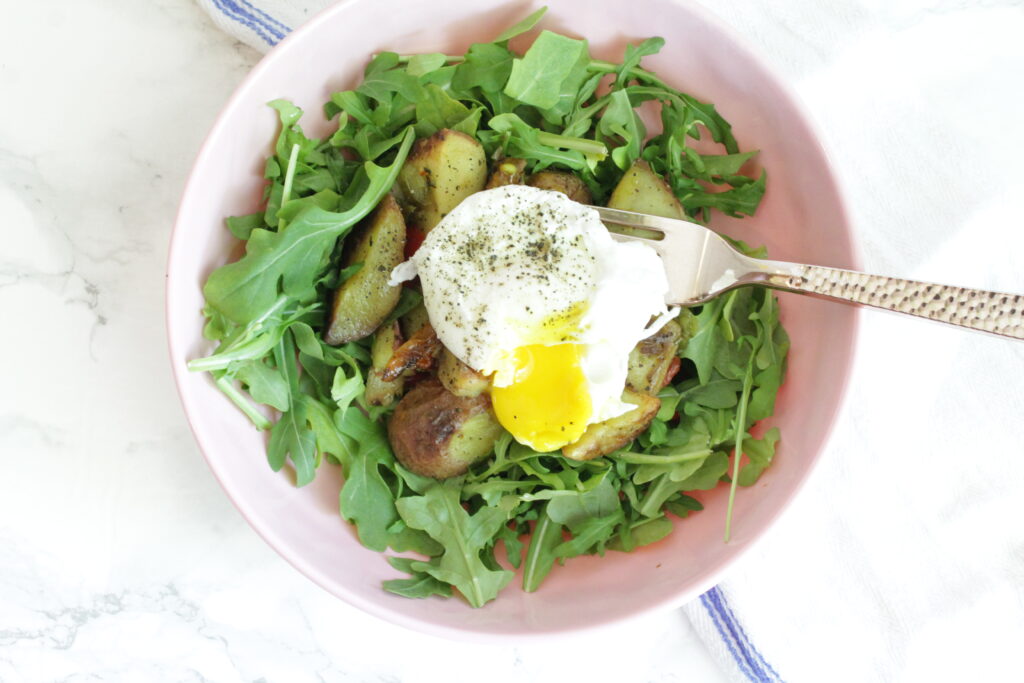 I know this seems like a lot of steps but I have a few hacks.
I usually meal prep sweet potatoes for the week. So I just throw them in the skillet to crisps them up.
I don't have time to make a poached egg on a work day. So on Sunday's I'll meal prep some. If you're weary about reheating poached eggs, just put the poached egg in some hot water for 20 – 30 seconds. This will heat it up and restore it to it's former glory.
That's all folks. Let me know what your favorite breakfast is.
Truthfully Yours, Dahlia